You are here
Ekhaya Neighbourhood Project & Upgrades of Existing Buildings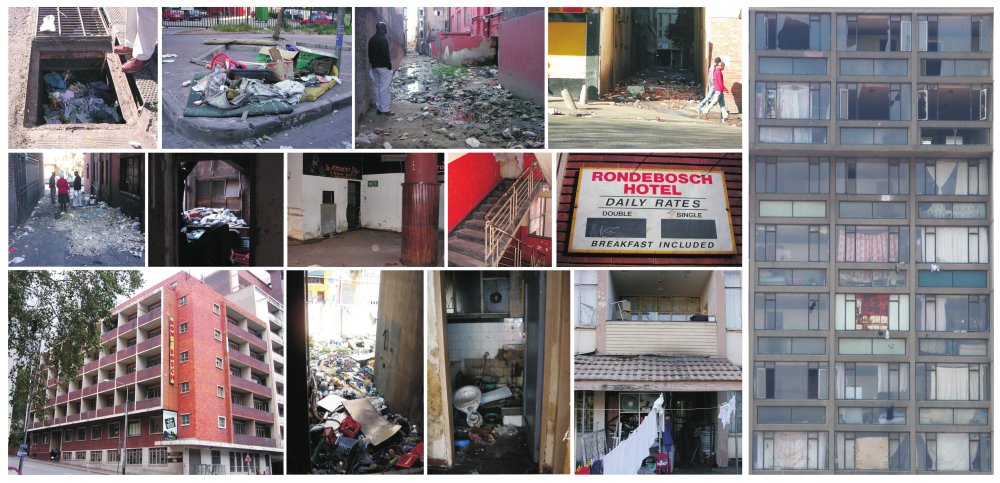 EKHAYA NEIGHBOURHOOD PROJECT + UPGRADES OF EXISTING BUILDINGS
Upgrades of existing building and development of neighbourhood framework, Hillbrow Johannesburg, 2002
Project Architects: Savage + Dodd Architects
Client: Johannesburg Housing Company | eKhaya Neighbourhood
In 2002, Savage+Dodd Architects undertook a first upgrade of a so-called 'bad building' in Hillbrow for the Johannesburg Housing Company (JHC). Our involvement architecturally was quite limited. Bad buildings are those which have become degraded through lack of maintenance and service provision over years, most have absentee landlords and have been hijacked or been invaded by illegal tenants. Since then we have undertaken many projects of this nature and our involvement has become more intense.
Each building that is recycled poses its own challenges. Most buildings were in a severe state of decay. In recycling a building, certain key questions were posed as to whether it was sustainable in its current configuration, how it would contribute to the housing stock of the company and what other functions could feasibly be included to make the project socially sustainable. Within a series of buildings, all located along Pietersen Street, a variety of challenges were addressed, from converting an existing residential hotel into rooms with shared facilities – a sought after typology to rehabilitating an iconic 1950's Modernist building. The key sustainable concepts were recycling and repurposing buildings.
In 2004, having analysed their progress, the client decided that there was now enough critical mass of 'good
buildings' and buildings either owned by themselves or under good management, in a specific area of Hillbrow centred on Pietersen Street, to start thinking strategically in terms of a neighbourhood. This was the realisation of the so called 'ripple pond' theory of development. It therefore focused not on the building but on the context.
The eKhaya Neighbourhood Improvement Programme (eKhaya) was the first of its kind to envisage forming a residential neighbourhood community in a degenerated low income, high density "no-go" area in the inner city. It was initiated by JHC at a time when they owned three buildings in the neighbourhood, all on Pietersen Street. eKhaya set out to organise property owners, their housing managers and caretakers and residents to co-operate between themselves to create and maintain a safe, clean, healthy and well managed environment, for the benefit of the people who live and/or work in the area, the property owners, and all in the city.
An extensive mapping process was undertaken locating all the buildings – 'good' and 'bad' and public amenities in the vicinity. This formed the basis for discussions concerning common interests with neighbourhood property owners.
One of the first initiatives was to clean up the existing sanitary lanes which were filthy, neglected and dangerous areas where no-one took responsibility for their upkeep. The first manifestations of the eKhaya project were not always focused on the physical environment, but slowly the process of building urban governance, has resulted in people driven changes to the environment, from the carving out of public space and play areas from the streets to the reclamation of urban open space.
We had seen that previous 'urban design' interventions in the late 80's had actually resulted in very dangerous street areas, especially on Quartz Street. We had also realised that urban space requires urban management, otherwise one makes nice space for drug dealers. Hence, our first urban interventions were not interventions in the physical environment, those interventions had to come out of a people driven process. The first physical interventions were to co-operatively clean and repair the lanes between buildings. This began to establish collaborative relationships between various roleplayers. Out of this, small physical interventions in the street were able to be made. Firstly the area at the eastern end of Pietersen Street was re-structured and repaved to make a playground and ball court area. This has been the site of several very successful community sportsday events organised by eKhaya. This has been the start of physical placemaking. Recently, the eKhaya Park project by Ikemeleng Architects has managed to reclaim an existing neglected and overgrown open space. These interventions are only sustainable within the urban management framework set up by eKhaya. Whilst the physical manifestations of the project were initially upgraded buildings providing a variety of quality accommodation, the most important aspect to this project is that it is a process and not a product. The most important outcomes of the overall project are about building people and building urban citizenship and not about buildings per se.
Continued on Panel 2
.
SAVAGE + DODD ARCHITECTS